FEATURED Whitepaper
Customer Data Platforms: Solving the 5 Key Business Challenges in 2023
The ability to provide personalized customer experiences is now an essential component of organizational success
Download the

Whitepaper
How are you promoting customer loyalty?
Strategizing, implementing, and running a successful loyalty program is no easy feat, but it's one of the best ways to attract, engage, and delight your customers.
Here's our guide to what customer loyalty means, why it's important, and 24 ways you can build and maintain it.
What is Customer Loyalty?
Customer loyalty is a customer's commitment to your brand. A loyal customer will always choose you over the competition, maybe because of your excellent customer service, unbeatable product selection, or another way you differentiate yourself.
Why is Customer Loyalty Important?
Loyal customers are the most valuable asset for any brand to hold onto. Repeat customers typically spend more and generate larger transactions: According to a study from Bain & Company, the average repeat customer spent 67% more in months 31–36 of their shopping relationship than months zero-to-six.
On the flip side, bringing in new customers can cost anywhere from five to 25 times more than selling to your current customers, which means a loyalty program is one of the most cost-effective ways a brand can increase ROI.
Successful Examples of Customer Loyalty
Amazon Prime
One of the most notable customer loyalty programs is Amazon Prime membership. This is a subscription-based service with one yearly fee. With the subscription, customers get free two-day shipping and streaming capabilities through Prime Video.
This program has been an incredible success for Amazon. Research has found that Prime members spend an average of $1,300 per year on the website, compared to $700 a year from non-Prime members.
Starbucks
Arguably one of the most successful mobile apps to ever exist, 23.4 million people aged 14 and older will use the Starbucks app to make a purchase at least once every six months. That's 1.4 million more than Apple Pay and twice the amount that will use Google Pay.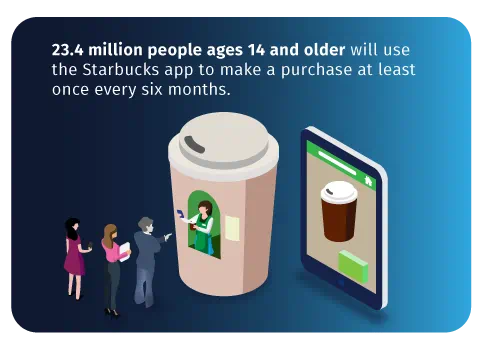 The app's ease of use lets customers load a certain amount of money onto their mobile device that can be used to pay for items in-store. Customers can also order from their mobile devices and pick up at their closest store. With every mobile purchase, customers earn "stars," which are rewards that can be redeemed for free drinks or other treats.
TOMS
Some companies go the charitable route in order to promote customer loyalty. For every pair of shoes purchased, TOMS donates a pair to a person in need. According to their website, they've donated 86 million pairs of shoes to date.
Sephora
Offering customers unique experiences is sometimes just as, if not more, effective than discounts alone — just ask Sephora, whose Beauty Insider customer loyalty program boasts some 25 million members. Rather than just offer discounts (though it certainly does that, too), the popular makeup retailer gives "insiders" access to exclusive experiences, such as first dibs on new products, meet-and-greets with brand founders, and a behind-the-scenes look at how their favorite products are made.
The North Face
Sometimes the best way to appeal to customers is to make them feel like they're members of an exclusive club; one way to do this is by using a tiered loyalty program.
The North Face excels at this. The outdoor recreation's VIPeak program separates customers into different tiers, with different rewards, based on how much they spend. Best of all, VIPeak uses fun iconography and cleverly named tiers — Basecamp Level, Halfdome Level, and Summit Level — to put a creative spin on the concept of exclusivity. And it's a tactic with proven results: VIPeak members shop twice as much as the average shopper and spend 20% more.
24 Ways to Build & Maintain Customer Loyalty
1. Offer Discounts
With the latest analytics technology, retailers can provide customers with discounts on products they purchase regularly, as well as products that complement prior purchases. Whether it's for college students, veterans, or senior citizens, offering an exclusive discount is a great way to recognize (and retain) key segments of your customer base.
Discounts can also get people to buy from you during typically slow times. For example, a movie theater that offers $5 tickets on Tuesdays or a restaurant that gives a 10% discount to college students on Monday nights. Knowing that they can get a better deal on a certain day will help you create a loyal customer base.
2. Reward Customers
Rewards can either be something a customer works toward or a pleasant surprise. Who wouldn't love a "Buy 10 bagels, get the 11th free" punch card? This gives the customer something to aspire to and increases the chances of them coming back.
As for the unexpected, you can offer free shipping through your eCommerce store for orders over a certain amount or deliver a free gift with a purchase.
No matter what, you should make it easy for your customers to redeem their points. Make it so that their profile in your POS includes up-to-date information about their available rewards and customer status.
Also, make sure to include an expiration date so that your customers are encouraged to make a purchase before the deadline. Nothing will turn away a loyal customer faster than telling them that their reward has expired.
3. Promote Your Rewards Program
It's one thing to create a rewards program, but you can hardly expect customers to sign up if they don't know about it. Encouraging sales associates to talk up the program, advertising incentives with in-store displays, sending out email announcements, and more — there are any number of ways to get the word out.
4. Encourage Referrals
A "Refer a Friend" program is an effective way to reward your current customers while also gaining new ones.
This can be something like "Give $10 and Get $10" or you can offer reward points for every friend a current customer recommends to your company. You can also utilize social media. If someone "likes" a post from one of your loyal customers, you can send them a unique link to a special promotion that's just for them.
Referral programs give you an opportunity to get creative, since there are unlimited ways to share the love. If you refer a friend to the Casper mattress, you'll receive a $75 Amazon gift card. And as an incentive for the friend to purchase, they receive 10% off their mattress. It's a win-win-win for everyone!
5. Create a Point System
With today's loyalty systems, retailers can offer various types of reward points on purchases, status level, and other customer features.
Starbucks excels at this with their mobile app. For every dollar you spend, they reward you with two stars under their Gold Level tier. Customers earn different rewards at different intervals — 25, 50, 150, 200, and 400 starts. There are also opportunities to collect bonus stars if you make a certain purchase several days in a row.
Some retailers also make it possible for customers to receive points with partner companies. An example of this would be an airline reward program where a customer earns points from preferred dining, car rentals, and other purchases at specific establishments.
Using your company's CRM system as a foundation, a qualified solutions provider can help you build a loyalty management system tailored to your unique requirements.
Case Study: Building a Unique Loyalty Rewards Program on Microsoft Dynamics >>
6. Partner with Another Company
As we just mentioned, partnering with another relevant brand is a great way to boost your exposure and offer your existing customers more options.
For example, if you're a veterinary office, you may partner with the local pet food store. This will get your office's name in front of the pet food store's customers and vice versa.
This can also work for the charitable side of your business. By letting your customers know that a portion of their purchase goes toward a certain charity, you're showing your commitment to your community and giving the charity more exposure.
7. Set Up a Subscription Service
A subscription-based program not only retains a customer for a certain amount of time, it also offers incentives for the customer that they may not receive anywhere else.
For example, pet products supplier Chewy.com offers a discount when you sign up for autoshipping. You can choose how frequently you want your furry friend's items delivered to your home and cancel at any time.
8. Ask for Feedback
Letting your customers know that you value their feedback shows that you're committed to consistently improving to better serve them.
There are many ways to request feedback, but it's most effective when done immediately following an interaction with a customer.
For example, after reaching out to Warby Parker, they send an email asking how your chat with the customer service representative was. It's important to make any feedback request quick, simple, and painless for a customer to complete so that they'll be more likely to share their thoughts.
Certain CRM systems include customer voice capabilities, so retailers can capture the voice of the customer — that is, gain firsthand perspective into what the customer experience is like and how consumers talk about a particular product or brand.
9. Ask for Reviews
Reviews are golden because they are authentic testimonials from real people. Someone who is unsure of whether or not they should buy from you will check reviews to see other people's experiences with your company, and decide from there if they want to buy from you.
Collecting reviews is a great way to help these shoppers turn into long-term customers. It's also an opportunity to turn your happy customers into brand advocates. You can request Google or social media reviews through email and maybe even offer an incentive for completed reviews.
Don't forget: If a customer shares a review, you should respond to it whether it's good or bad. This shows that you're paying attention to what people are saying about you, and you can use the feedback as a way to improve.
10. Respond to Feedback & Reviews
Asking customers for input is only the beginning. You should always respond any time a customer writes a review or offers feedback, regardless of whether it's positive or negative. Doing so not only shows that you're paying attention to what people are saying about you, but also demonstrates that you value customers' thoughts and opinions. Try creating different scripts for different situations so that your responses are polite, professional, and consistent with your brand's tone and voice.
11. Pay Attention to Social Sentiment
Another way to determine how customers think and feel about your brand is to analyze social sentiment. As its name implies, social sentiment refers to public perception of your brand as expressed via social media.
Social sentiment can be a strong indicator of which way your customers are leaning, especially amongst younger audiences — Millennials and Gen Z spend more time online than previous generations and, as such, are more likely to be influenced by social media. Social sentiment — and social media in general — can be a powerful tool for staying on top of the latest trends, gaining insight into what your customers really think, and ensure long-term customer loyalty.
12. Show Gratitude
A simple "Thank you" goes a long way! Many shops on Amazon and Etsy deliver heartfelt notes of gratitude after every purchase. This is a way to reach across the impersonal eCommerce barrier and remind them that there's a grateful human on the other side.
Handwritten notes delivered along with a purchase are an incredibly thoughtful way to show your thanks, but it's understandable that this isn't always feasible. Instead, your customer loyalty plan can include a monthly goal for how many notes you'd like to write or you can use an alternative strategy like printed packaging inserts.
Chewy.com has lifelong customers because they take customer appreciation seriously. They're known for sending holiday cards, housewarming gifts, and even commissioned painting of customers' pets!
Many of the strategies listed here can be easily and successfully executed with a customer relationship management (CRM) system.
A CRM system enables you to collect and store important customer data, such as major milestones, purchase habits, transaction histories, customer service records, and more, all within a single, consolidated location. Retailers can also utilize analytics to build unlimited rules and models to create rewards programs that benefit specific customer segments, while also driving loyalty and revenue. This gives you the chance to better understand your customers, so you can personalize their experiences and increase the chances of them remaining loyal to your brand.
14. Personalize Sales & Marketing
With so many advertisements vying for customers' attention, personalization has become one of the most effective ways to get them to notice — and to enhance the customer experience. As we've mentioned, CRM systems make it easy to house all relevant customer data in centralized repository, but did you know that you can also use a CRM to build out detailed profiles for individual customers?
By providing a truly 360-degree view of the customer, a CRM system gives you all the information you could possibly need to tailor marketing campaigns, product recommendations, promotional offers, and more to an individual customer's needs and interests. In doing so, you can ensure that you're delivering the three Rs: the right product in the right place at the right time.
15. Create Loyalty Tiers
You can encourage more purchases and offer more rewards by setting up a tiered customer loyalty program.
The Hilton Honors Reward Program has four loyalty tiers, with each offering greater benefits than the one before. Customers earn points with every stay and a certain amount of points moves them up the loyalty ladder. All tiers include membership discounts, while the higher tiers include exclusive offers like 48-hour room guarantees and executive lounge access.
16. Engage Your Customers
The numbers don't lie: Engaged customers are loyal customers. Companies with strong omnichannel customer engagement strategies retain an average 89% of their customers, compared to those with weak omnichannel strategies, which only retain 33%.
Though there are seemingly innumerable ways to boost customer engagement, some tried-and-true methods include:
Building a customer community where your customers can connect, share their opinions, discuss the latest trends, and more
Creating marketing content that is as exciting, entertaining, and informative as it is promotional
Experimenting with different mediums — videos, infographics, social media content, and so on — and seeing what your customers respond to
Developing a brand voice that feels authentic and approachable
Hosting events, such as webinars, customer engagement summits, and local meetups, where customers can engage with your employees — and with each other — face-to-face
17. Maintain a Human Connection
Even in the digital age, one-on-one interactions are much appreciated. Online chats and email correspondence are appropriate for a lot of situations, but nothing beats a human touch.
A whopping 79% of consumers say that interacting with a human is an important part of their experience. This tells us that, while digital avenues are still valued, having an actual person available by phone is a comfort no consumer wants to be without.
18. Make Yourself Available
As we just mentioned, there are plenty of avenues customers can take to get in contact with you, so it's important to make sure someone is always on the other side to represent your brand.
Whether a customer sends you a message on Facebook, an email, a comment on Instagram, or a note via your online chatbot, someone should be there to respond ASAP. To streamline communications, you should have scripts prepared and a process in place to handle any type of interaction, whether it's a simple question or a complicated problem.
You can even leverage your CRM system to support this availability. By providing you with a 360-degree of the customer, your CRM system enables you to see which channels your customers frequent, which social media platforms they like to use, how they prefer to communicate, and more, so you're ready and available whenever and wherever they need.
19. Prioritize Emotional Relationships
In today's cutthroat competitive business landscape, customer satisfaction is no longer the competitive differentiator it once was. The modern customer doesn't just want their basic needs to be met — they want to feel seen, heard, and valued. This requires retailers to prioritize emotional relationships over transactional ones and to appeal to different "emotional motivators," such as a desire to feel a sense of belonging, a desire to stand out from the crowd, and so on.
Establishing emotional connections is a powerful way to enhance the customer experience and, by extension, secure customer loyalty. In fact, by implementing an emotional connection-based strategy, one retailer was able to reduce its customer attrition rate from 37% to 33% and increase customer advocacy from 24% to 30%. For retailers interested in taking a more emotional approach, using your CRM system to unlock hidden insights about emotional motivators from customer data is a great place to start.
20. Speak Your Customer's Language
"Speaking your customer's language" can mean two different things, both of which are important to keep in mind.
The first is literally speaking the customer's native language: 75% of consumers say that they're more likely to purchase goods and services if the corresponding product information is in their native language. The same goes for customer service. Offering multilingual services — especially if your company has a global presence — is a great way to make the customer experience easier to navigate and to demonstrate that you value your customers.
The second refers to using a more conversational tone when interacting with customers. Now, we aren't suggesting that you start studying up on the latest slang, but rather that you use language that's friendly, easy to understand, and relatable; you should incorporate this language into everything from your customer service scripts to your marketing materials. Start by listening to your customers: Pay close attention to how they talk about different products and the pain points they experience to get a sense of their tone, diction, and phrasing. Avoid complicated industry jargon wherever possible and always be mindful of readability.
21. Be Honest
Mistakes are just a part of life. Just think of the numerous data breaches that some of the biggest brands have had to deal with in recent years. What we learned from this is that honesty is always the best policy.
If a company didn't address a small mistake with an order or something more extreme like a data breach, how would the customer feel once they noticed the issue? It's likely that they'd lose any and all sense of trust with the company, and probably tell their friends and family about the negative experience.
No matter the issue, be honest with your customers. Dancing around a problem or ignoring it completely doesn't put anyone at ease. A simple email that acknowledges the error and addresses how it will be fixed may be all your customers need to remain loyal.
22. Be Flexible
Say you have a strict 30-day return policy in place, but a long-time customer requests a refund a few days outside of this window. Is it worth losing the customer if you deny the request?
Little exceptions like this are what can turn casual shoppers into life-long advocates for your brand. Plus, a customer you go the extra mile for will likely be willing to write a positive review of your company.
23. Remember Their Special Days
No one wants to feel like Molly Ringwald in "Sixteen Candles." Sending a simple "Happy Birthday" email or postcard to acknowledge their special day keeps you top-of-mind and shows you care. You can take this a step further by giving them a special birthday discount or a free product to help them celebrate.
CRM systems make it easy to keep track of major customer milestones, such as birthdays, wedding anniversaries, college graduations, and more, so you can proactively create and queue up marketing messages for every event.
24. Offer Wish Lists
Giving customers the ability to keep track of their favorite items or create wish lists is another feature that most successful loyalty programs offer. This helps the customer keep track of items they want to purchase while also creating an easy-to-reference list for friends and family members who are gift shopping. It also supports personalized marketing: Since wish list data is typically stored within a CRM system, you can access that information and use it to strategically deliver in-stock notifications, price reduction alerts, and more.
How We Can Help
Hitachi Solutions empowers retailers with the technology they need to remain competitive, meet consumer demands, and grow profits. By delivering fine-tuned solutions that are designed specifically for the retail industry and supported by the Microsoft platform, we help you create, maintain, and increase customer loyalty.
For more information, you can reach out to us here.