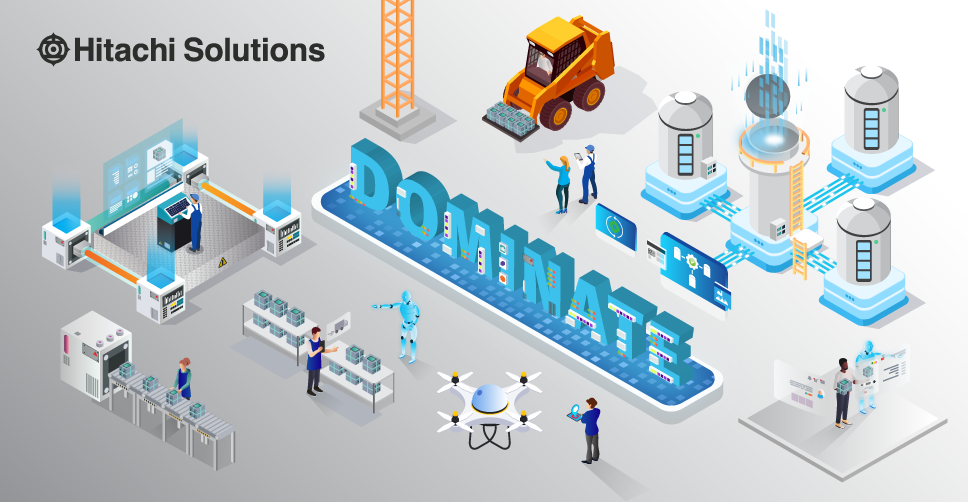 FEATURED Ebook
Future of Manufacturing
Blueprints for a connected supply chain.
Download the

Ebook
Responding to supply chain disruption by exploring in-sourcing and direct-to-consumer models; utilizing mergers and acquisitions as an opportunity to reevaluate and modernize their software ecosystem; and more — if there's a uniting theme for the manufacturing industry heading into 2023, it's turning challenges into opportunities.
In this blog post, we'll discuss our predictions for the biggest manufacturing trends of 2023, with insights on how manufacturers can take advantage of them.
Labor Issues Create Uphill Battle
We've all seen news stories about the Great Resignation, which saw thousands of employees voluntarily leave their jobs in search of opportunities with better wages, better working environments, and better work-life balance.
This phenomenon has taken a serious toll on the manufacturing industry, with The Washington Post reporting that manufacturers have seen a nearly 60% increase in resignations compared to pre-pandemic numbers. And, if recent reports are to be believed, the Great Resignation isn't over just yet: One in five workers say that they're "extremely likely" or "very likely" to switch employers within the coming year.
Further complicating things is the general state of employment within the manufacturing industry. Nearly a quarter of the manufacturing workforce is age 55 or older and, according to a report from the Manufacturing Institute, "due to the technical nature of manufacturing production work, the manufacturing sector suffers acutely from labor shortages."
Under these circumstances, it's evident that the push to attract, hire, and retain talent from younger generations is one of — if not the — top manufacturing trends as we head into 2023. In order to overcome the hurdle that is the Great Resignation, manufacturers will need to offer competitive pay and benefits and create the kind of workplace environment that more closely aligns with candidates' expectations.
Employees Seek More Favorable Working Conditions
Given the current state of the job market, would-be manufacturing employees have more leverage now than ever before — leverage they're using to motivate manufacturing companies to create better workplace environments. From higher wages and flexible hours to advancement opportunities and workplace wellness programs, we're increasingly seeing manufacturers implement new programs and policies and even change how they manage operations in order to accommodate employees. The end goal is not only to attract new talent in a competitive job market but also to retain their existing workforce by helping them achieve a healthier work-life balance.
Speaking of health, it remains a top priority for manufacturers everywhere as employees return to the workplace and vendors resume in-person visits. Although many COVID-related restrictions have largely been lifted, we still expect manufacturers to continue to emphasize the importance of proper sanitization and closely monitor who enters and exits their facilities. Traceability will remain an important manufacturing trend in 2023, with companies in-sourcing facilities maintenance and management, reclaiming internal equipment data from original equipment manufacturers (OEMs), and demanding greater transparency from suppliers.
Product as a Service Has Its Day
The digitalization of, well, everything has dramatically changed the way consumers interact with brands — including OEMs — and shifted their expectations of the customer experience.

In years past, the relationship between a manufacturer and its customers was surface-level, at best: A customer would purchase a piece of equipment and, once the sales process and final installation were complete, only interact with the manufacturer again when they were in need of repairs or interested in buying another piece of equipment. Today, customers expect near-constant access to and regular engagement with brands and, rather than make a one-time purchase, want to pay only for what they need on a residual basis. Though this change in expectations introduces certain challenges for manufacturers, it also opens the door to new opportunities — including Product as a Service.
Product as a Service — also known as Servitization and abbreviated as PaaS — is a business model in which manufacturers lease (rather than sell) equipment to customers and/or offer a list of subscription-based value-added services. Customers benefit from this arrangement by only paying for what they need, gaining additional support from OEMs, and accessing a new array of value-added services, which help optimize operations.

Manufacturers stand to gain even more. Product as a Service represents a shift from selling equipment as a capital expenditure to an ongoing expense model, meaning rather than process a series of one-time transactions, manufacturers now enjoy recurring revenue. The opportunity to grow aftermarket value streams and capture revenue throughout the equipment lifecycle is only half the incentive: PaaS also enables manufacturers to collect equipment usage data from customers — data that can be used to better understand customers' needs, optimize existing offerings, and bring new products to market.
Although PaaS has generated a significant buzz in recent years, the technology underpinning it still had a way to go until it became a feasible business model — until now, that is. The internet of things (IoT), artificial intelligence (AI), predictive analytics, and other related technologies have finally reached a level of maturity where PaaS is no longer a theoretical possibility, but a real opportunity. As technology matures, it also becomes more affordable and accessible, which means a greater number of manufacturers will be able to capitalize on PaaS.

These factors, combined with changes in consumer behavior — including the desire for a better customer experience and the demand for less expensive equipment — means that PaaS will finally have its day in 2023 and become one of the biggest manufacturing trends of the year.
IIoT is (Still) THE Big Thing
The IoT — or, more specifically, industrial IoT (IIoT), which refers to the extension of IoT to industrial applications — remains a leading manufacturing trend for 2023 thanks to new and emerging use cases.
IIoT, which entails the interconnection of unique devices within an existing internet infrastructure, has enabled manufacturers to make informed, strategic decisions using real-time data and achieve a wide variety of goals, including cost reduction, enhanced efficiency, improved safety, product innovation, and more.
As recently as 2019, the vast majority of manufacturers had already implemented IIoT in key areas of their business, such as logistics, employee and customer experience, predictive maintenance, and asset management; those who had not yet implemented IIoT reported that they planned to do so in the coming years. Given recent projections, which claim that the IoT in the manufacturing market will reach up to $399.08 billion in value by 2026 at a Compound Annual Growth Rate (CAGR) of 14.5%, it's clear that manufacturers' investment in IoT will only increase in 2023 and beyond.
Part of the reason for this is that IIoT has a wide variety of applications, including:
Remotely monitoring equipment performance in real-time and comparing those metrics against established key performance indicators (KPIs) to gauge overall equipment effectiveness (OEE)
Establishing a baseline for normal equipment behavior and using it to identify abnormal activity for predictive maintenance purposes
Conducting remote analysis on equipment to identify potential issues before a malfunction occurs
Monitoring production — including production on specific equipment, specific unit operations, and specific unit lines — in real-time to surface hidden inefficiencies and opportunities for improvement
Enhancing traceability using barcodes and radio frequency identification (RFID) to track the movement of supplies and finished goods
Integrating complex systems and comparing equipment performance data against enterprise resource planning (ERP) systems, quality management software, and computerized maintenance management systems data to run in-depth descriptive, diagnostic, predictive, and prescriptive analytics
In addition to these applications, Product as a Service has also cemented IIoT's status as a leading trend for yet another year: In order to gather customer usage data and unlock the valuable insights it holds, manufacturers must embed IIoT sensors into the equipment they intend to make available for lease.
The Next Generation of Predictive Maintenance Is Here
Predictive maintenance has been at the forefront of manufacturing for some time now, and while it remains a key manufacturing trend for 2023, it looks a little different than it has in years past. Instead of predictive maintenance, manufacturers are in the early stages adopting of predictive resolution.
Where predictive maintenance uses data analysis to identify anomalies in equipment performance and determine their root cause, predictive resolution takes this concept one step further, offering technicians insights on how to resolve those issues with greater certainty. In basic terms, predictive resolution increases the likelihood that an issue will be sufficiently addressed on the first try, thereby enabling manufacturers to enhance equipment efficiency, reduce costs, and improve their first-time fix rate.
Although the predictive resolution has long been a goal for manufacturers, they've struggled to build the necessary history to support predictive models. Fortunately, recent advancements in AI, machine learning, and natural language processing (NLP) have made it possible for manufacturers to extract unstructured data from Word docs, Excel files, PDFs, and other documents and convert it into a usable format for predictive engines.
What's more, as the technology that underpins predictive revolution becomes more sophisticated, it also becomes more affordable, opening manufacturers up to a world of new possibilities. By using predictive resolution in conjunction with IIoT, manufacturers can ensure that production assets and/or customer equipment operate as intended, proactively address issues before they have the chance to lead to unplanned downtime, and extend the life of machinery.
This is yet another area in which Product as a Service will prove essential, as the usage data customers generate will provide manufacturers with other valuable data point that they can use to build machine learning models and engage in predictive resolution.
Simplify Your Move to Predictive Maintenance Using These 5 Steps
A Modern Approach to ERP
ERP systems have long been a mainstay amongst manufacturing companies due to their ability to streamline processes through automation, to provide accurate, real-time information, and to reduce costs. However, many manufacturers still use outdated legacy systems that no longer serve their business needs. And as the manufacturing industry continues to recover from the worst of the COVID-19 pandemic, there's been a dramatic increase in merger and acquisition (M&A) activity, which has resulted in newly formed companies carrying a substantial amount of technical debt.
These factors have not only led a growing number of manufacturers to modernize systems and transition to the cloud, but also to reconsider what it is they need their ERP systems to do. In 2023, we expect to see a radical shift away from heavy customization, which can contribute to unnecessary complexity and make it difficult to consolidate multiple systems and achieve growth targets, and toward simplicity. As part of this ERP modernization process, manufacturers are taking a step back; figuring out what their actual business needs are; designing global templates and best practices to support those needs, allow for future optimization, and accelerate growth.
Manufacturers Find Meaning in Big Data
Sustained interest in IIoT, growing emphasis on predictive resolution, and the industry-wide shift toward Product as a Service means Big Data is bigger than ever. The ability to collect data from an ever-growing number of sources, combined with efforts to modernize systems and increasingly powerful analytics capabilities, makes it possible for manufacturers to slice and dice data in ways that provide them with a comprehensive understanding of their business.
With access to these insights, manufacturing companies can engage in more data-driven decision-making around sourcing, production, fulfillment, cost reduction, and more. By making more informed decisions, manufacturers can better support their company's growth rate strategy and drive outcomes — and, if they're unsuccessful, better understand what it is that went wrong and tailor their approach moving forward. In that respect, 2023 will be about moving beyond visibility into Big Data, and instead finding meaning in and discovering the benefits of Big Data.
Digital Twins Enhance Production Efficiency
A relatively recent advancement in the world of IoT, a digital twin is an exact replica of a real-world piece of equipment or a particular component rendered in a virtual environment. Since it is exact, the digital twin mirrors the actual asset not only in appearance, but also in functionality, how it connects to other components or machines, and even environmental conditions. This simulation enables manufacturers to run tests, model scenarios, conduct trainings, and see how equipment performs under different conditions without ever having to touch the actual asset.
Digital twins are powerful tools manufacturers can leverage in every aspect of their business, including:
Optimizing production by modeling various processes and identifying potential bottlenecks and other hidden inefficiencies
Testing out new production lines and prototyping new products in an easy and affordable way that accelerates speed to market
Proactively monitoring equipment performance and health, both on the production floor and out in the field
Testing out repairs and improvements to gauge their efficacy, support predictive, and increase FTFRs
Providing new hires and technicians with hands-on training using the most up-to-date models of machines
Modeling new business opportunities in support of growth strategies
For an example of digital twins in action, look no further than Rolls-Royce. The commercial aircraft engine manufacturer collects health, performance, fuel usage, and service needs data from its over 13,000 engines using IoT and telemetry. This data is combined to build digital twins on the Microsoft Azure platform, creating a consistent feedback loop that the manufacturer can use to optimize maintenance, drive product updates, monitor in-flight performance, and deliver fuel and flight route recommendations to its airline customers.
Given the broad spectrum of applications for digital twins (which only gets broader by the day), we anticipate that they'll be a major trend for the manufacturing industry heading into 2023.
Manufacturers Make the Most of Supply Chain Challenges
Despite being one trend we'd all like to leave behind us in 2022, it appears as though supply chain disruption is here to stay. With rising inflation (and corresponding freight costs), driver and labor shortages, logistics issues stemming from factory shutdowns, geopolitical conflicts in major sourcing regions, and climate change creating new weather patterns that threaten viable shipments, the current outlook is less than encouraging. But if there's one thing we've seen from manufacturers, it's that they're determined to make the best out of a bad situation — starting with insourcing.
Rather than rely on third-party logistics firms to handle fulfillment, some manufacturers are choosing to eliminate the middleman by acquiring logistics companies or developing their own in-house logistics operations. This approach allows for greater supply chain visibility and higher quality control, as well as reductions in shipping costs and time due to more streamlined logistics networks.
We're also seeing manufacturers replace the traditional multi-tiered channel sales model — in which product flowed from manufacturer to wholesaler or distributor to end consumer — with a direct-to-consumer model. Similar to insourcing, this approach eliminates the middleman, giving source manufacturers more control over their brand image and pricing and enabling them to develop stronger relationships with their original equipment manufacturer customers. Some manufacturers have even applied this tactic to their suppliers, working directly with suppliers rather than through an intermediary, creating a more connected supply chain.
Although this activity has been more common amongst larger conglomerates, we expect to see more manufacturers follow suit in 2023, as well as find other innovative ways to turn supply chain challenges into exciting new opportunities.
Investing in such technology — along with building redundancies into your supply chain, considering new suppliers and sourcing options, and developing ecosystem partnerships — is a smart way to weather the worst of disruption and build a more resilient supply chain.
Interest in Reshoring & Near-Sourcing Remains Strong
Prior to 2022, reshoring — that is, bringing imported goods or materials back to domestic production — was already well on its way to becoming common practice amongst U.S.-based manufacturers. According to some reports, as many as 749,000 jobs were brought back to the U.S. between 2010 and 2018 as a result of restoring.
That number has only increased in the years since: According to a report from the Reshoring Initiative, the total number of reshoring and foreign direct investment (FDI) jobs announced in 2021 reached 261,000. This brought the rate of reshoring plus FDI job announcements up 46% from 2020 to 2021, and over 4000% from the 2010 rate.

There are a number of reasons why the reshoring — also known as nearshoring — movement has really taken off:
The economies in many go-to offshoring countries have become stronger in recent years, leading to an increase in wages for their citizens.
Countries in which labor remains inexpensive lack the infrastructure to support complex manufacturing operations
The COVID-19 pandemic raised awareness around the manufacturing industry's dependence on offshoring facilities when critical supply shortages led to production issues.
Global port congestion and high shipping rates are expected to last well into 2023.
Manufacturers are now able to utilize advanced software programs and robotics to automate many of the processes that once required human intervention.

In addition to this renewed reshoring effort, manufacturers also continue to reevaluate sourcing. Global supply chain disruption has made it challenging for manufacturers that source materials from other countries — China, in particular — to get a hold of materials. This has prompted many manufacturers to diversify sourcing by adopting a "China, Plus One" strategy or near-sourcing. Near-sourcing, also known as local sourcing, is the process by which a business brings operations closer to where its finished product is sold; in manufacturing, it typically refers to the sourcing of raw materials from domestic suppliers.
We can expect both reshoring and near-sourcing to remain leading manufacturing trends in 2023, as companies attempt to reduce or eliminate entirely dependencies on foreign materials. These trends will not only help manufacturers remain resilient in the face of future supply chain disruption; they'll also provide a much-needed boost to the U.S. economy.
—
While the deck may seem stacked against them, we predict that 2023 will be a year of innovation, in which manufacturers defy the odds, aggressively pursue growth strategies, and drive optimal business outcomes.
To start developing a forward-thinking strategy that incorporates these and other manufacturing trends, contact Hitachi Solutions today.